In conjunction with the commencement of Hong Kong Disneyland's Christmas festivities, Duffy the Disney Bear made his official debut on Friday, November 19th.  Being a fan of Duffy, my husband and I flew in for the opening day to cover the festivities and meet Duffy.  Hong Kong Disneyland released the Duffy merchandise earlier in the week so I had seen some photos online, which depicted nothing different than what is available at Tokyo Disney or the US Disney Parks now.
Upon arrival, we tried to find one of the Christmas fliers that had Duffy on it, but no one had any available.  We quickly found out that they were giving out Duffy Christmas stickers for the event.  One note on this — what a contrast to how DCA handled the Duffy debut.  The stickers at DCA were for having your photo taken with Duffy and the CM's would not allow you to get your sticker on the backing.  You had to put it on, which was quite disappointing since many people I spoke with had hoped to scrapbook with them.  On the flip side, Hong Kong Disneyland always passes out stickers during events and have no issues giving you extras sometimes.  Since we had our entire Duffy posse in tow, we ended up with quite a few of the Duffy stickers by the end of the day!
Once inside the Park, our first stop was in the Emporium to scope out the Duffy merchandise.  A small area was dedicated to the arrival of Duffy and he was fairly offset from the Christmas merchandise, which was somewhat of a disappointment overall (will save for a separate post!)  Something interesting Hong Kong Disneyland did was to feature a number of bears already dressed and ready for sale.  They had price tags on the outfits and the bears so no savings there.
Now, speaking of price — this has been an area of interest to many.  I was rather surprised to find the pricing in line with Tokyo.  The outfits are exactly the same as those from Tokyo DisneySea, however, tagged slightly different.  This is quite disappointing as the bears are now identical, just tagged differently — with quite a price gap between the US and Asia Parks.  The bear is $25 in the US whereas Duffy is 3,800 Yen (around $46 US) in Tokyo.  In Hong Kong, he retails for HK $320.00 (about $41 USD).  The outfits are also on par with Tokyo Disney pricing.  The "original" Duffy the Disney Bear outfit is HKD $240.00 and the Christmas outfit is HKD $280.00.
I had noticed on the earlier posted photos, the packaging for outfits is identical to Tokyo DisneySea — so much so they are actually using the same EXACT packaging, but applying stickers to cover up the Tokyo references.  This is confusing to guests who do not know much about Duffy and his origin.  The Christmas outfit has the illustration of Duffy and Shellie May (who is still only in Tokyo) and says "Straight from Cape Cod".  I took photos of the differences in the packaging to illustrate how it is just being covered up.  While I am happy Hong Kong is getting the quality outfits from Tokyo, I do mind that it is literally the same merchandise with the new generic "Disney Parks" logo.  Does this mean that the Tokyo quality goods will make their way to the US Parks?  Does it mean that Disney is going to really push this "One Disney" concept and rebrand everything with the "Disney Parks?"  How will this affect the unique items typically found only at TDR?  I guess only time will tell.
Observing the reception of Duffy at Hong Kong Disney versus opening day at DCA, he definitely received a warmer welcome from the HK crowd.  He has a little reserved spot on Main Street, which is a prime photo location for seasonal events typically.  There was nothing special noted in the Times Guide and we quickly found out Duffy would be available for photos from 11am – 2pm.  My husband hurried over to get in line, while I photographed holiday decorations.  We were second in line for the photos (about 1/2 hour out) behind a Japanese family who actually live in Vietnam now.  Behind us was a mother and child from Tokyo Disney who had the latest seasonal Duffy stuff from Tokyo.
Shortly thereafter, I spotted the big Duffy fans joining the line.  I exited the line to go back and ask if I could photo her "backpack o'Duffy Bears" and quickly learned she was a die hard collector.  Turns out, Beatrice is from Hong Kong and has quite a collection of the mini-plush, many of the older designs you rarely see.  It was great to connect with a fellow Duffy fan who is not local to Tokyo and see that he is loved and well-received outside the Japanese community.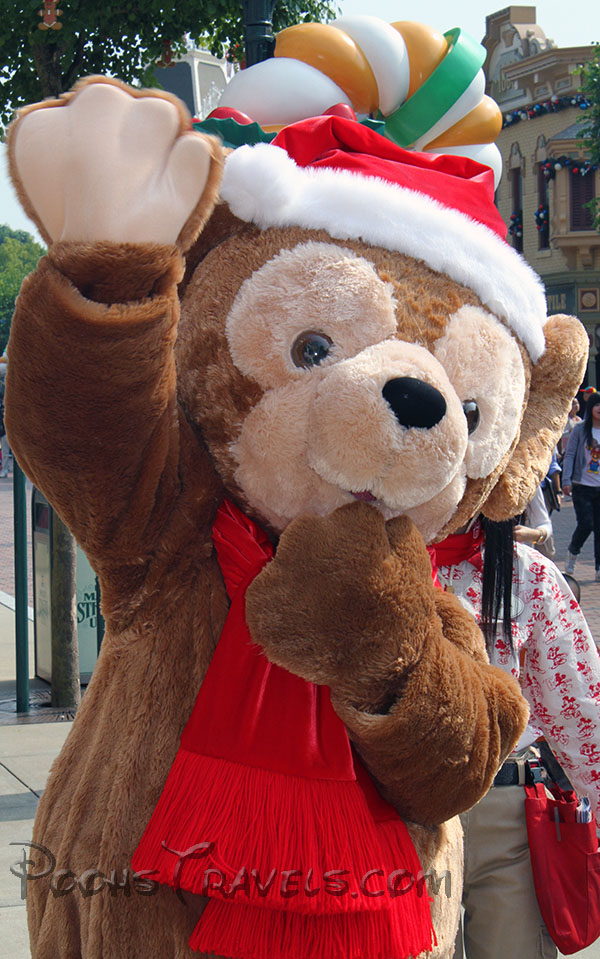 After we finished watching the Duffy fans arrive, we headed off to enjoy the rest of the Park and managed to find a few other interesting Duffy items…unfortunately, neither of them were for sale.  Some CM's were given really cool "pins" that have Duffy's face on them — I want one of these!  Then, we were walking down Main Street later in the day, we found a CM with a Duffy shaped balloon!  He was quite talented and managed to make a balloon animal look like Duffy — he even went so far as to draw the Mickey head on his foot!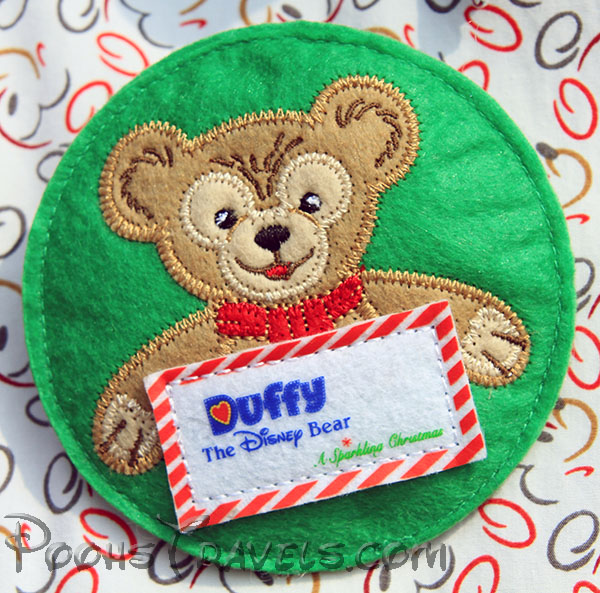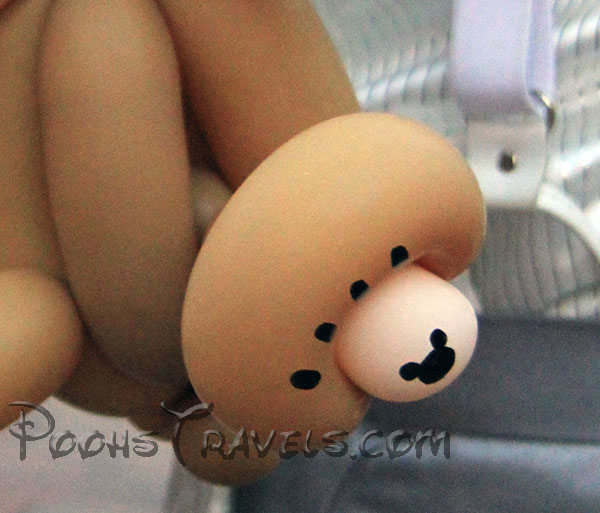 It was nearly time for the Procession of Toys by this time.  On our way to queue, we found another Duffy lover, Noel, who is friends with Beatrice and Kelvin (the Duffy fans we met earlier in the day).   Noel is a CM at Hong Kong Disney and definitely in the know about all things Duffy at HK Disney.
We had arrived about an hour early to get a front row spot for the Procession of Toys event so I could get prime Duffy photos.  We were so early they had not even set up the ropes yet and a CM kept giving conflicting information on where we should be.  Quite a difference from parades and shows at Tokyo Disney!  A tip for those who plan to see the show this season – queue in the middle of Main Street to get a center view of Duffy when he comes out!
This turned out to be a perfect spot and provided ample opportunity to photograph Duffy.  The Procession of Toys was quite short and not quite what I was expecting.  Based on the media images, I had assumed Minnie would present Mickey a stuffed Duffy Bear and then they would introduce Duffy the Disney Bear live.  Basically, Duffy appeared from the Christmas present box and then the spotlight came on and well, there you go.  I just think this was a missed opportunity to start out with the stuffed bear (like the story) and then move to the actual character.  Either way, at least he was presented to the HK Disney community in such a way that Duffy may do quite well.
In speaking with the local Duffy experts, there was discussion that HK Disney initially planned to bring Duffy in a limited capacity (perhaps 1,000 bears or something) and feedback from CMs changed their minds.  The CMs know how popular Duffy already is with locals and tourists alike, which they were obviously able to relay to the powers that be.  I spent considerable time in the stores, trying to gauge the reaction and Duffy stuff was definitely moving off the shelves.  I saw numerous people buying bears, clothes, and a few carrying the already dressed Duffy bears.   I was surprised that I did not see more Tokyo Duffy people though.  I've seen more on a regular day at HK Disney, but given that I was there on a Friday, the weekend could have been quite different.  One thing was consistent though – there was always a line to have a photo with Duffy.  Although the info booth told us Duffy was only there to 2pm, he did make another appearance in the afternoon after the Christmas parade as we saw him around 4pm.
So far, Duffy is available in a few stores on Main Street and Fantasyland; however, I did not find him in Tomorrowland or Adventureland.  Surprisingly, he is available in the Disneyland Hotel, along with the Christmas costume.
So far, the official Duffy releases at Hong Kong Disneyland include:
17 inch bear HK $320.00
Cell Phone Charm HK $80.00
Mini-plush keychain HK $95.00
Magnet HK $95.00
Wristlet HK $220.00
Duffy Bear Outfit HK $240.00
Christmas Outfit HK $280.00
Please check out the gallery below for all the Duffy photos of the day!
The following two tabs change content below.
Erin De Santiago
A lifelong Disney fanatic and freelance writer currently based in Asia. Sharing Disney tips and photos from the various Disney Theme Parks around the world.
Latest posts by Erin De Santiago (see all)