This weekend, Disneyland held a special artist event and signing at the Disneyland Gallery featuring Chip Foose, Custom Car Builder and Designer.  I heard about this event last month direct from Michelle Harker, Merchandise Marketing & Communications Project Manager for the Disneyland Resort, and was anxious for the product release photos to be shared — all I knew was that it was going to combine some of the Cars characters with iconic Disneyland attractions.
I grew up around vintage cars and the racing industry to some degree as my father had a custom paint business and did a lot of work in both the motorcycle and auto racing end of things.  I immediately got on the phone to them, despite the 15 hour time difference, and made sure they marked this in their calendars so my Dad could hopefully take the day off work and go.
Once the artwork was released, I was beyond ecstatic to see one of the pieces paid homage to my favorite attraction – the Haunted Mansion.  Each of the four art pieces included a Disney Pixar "character" set with a piece of true Disneyland history.  In addition to the four wall art designs, Chip did two special Vinylmation designs as well.
For those who may be unfamiliar with Chip Foose, he is pretty much a household "car guy" name if you grew up in Southern California like I did.  He is an incredible custom car designer who has built some incredibly sexy projects.  He caught the attention of the Discovery Channel in the SEMA show one year, which translated into what most people associate him with now – the TLC show Overhaulin' — where he and his team turn wrecks into functioning works of automotive art.
Disney fans who have visited the RIDEMAKERZ store in Downtown Disney might be familiar with the Foose name as well.  He recently did some custom body designs that were auctioned off for charity in support of a very rare disease, Hutchinson-Gilford Progeria Syndrome, a condition his youngest sister died from.
For the Disneyland Gallery and Art of Disney Parks event, you had the option to get a wristband in hopes of purchasing one of the four original framed art pieces at $10,000 each, and could stand in line to purchase one of the four LE95 canvas wrapped ones at $325 or the open edition prints for $35 each.  The two Vinylmation designs were also one-of-a-kind ($1,500 each) and subject to wristband distribution as well.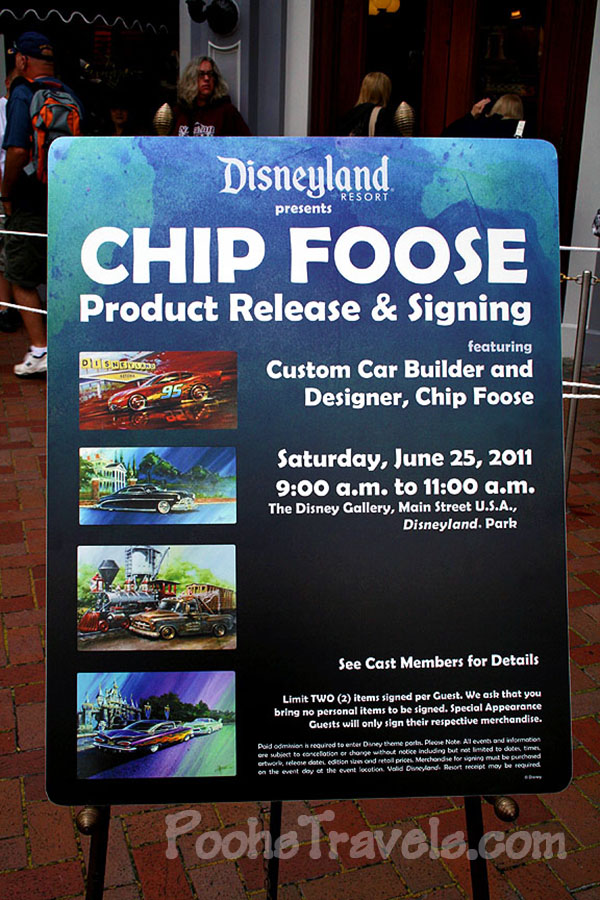 Kudos to my Mom for getting up at 4am (and Dad for taking a day off work) to ensure they were ready, and at Disneyland when the parking structure opened before 7am, in hopes they could be one of the first in line.  Since you were only limited to two signed pieces each and they were purchasing five items total, I wanted to make sure we got everything.  I double checked this with Michelle as well and she did tell me that you had the option to get back in the signing line again if you wanted.  Great tip as I could ensure all four of my pieces were signed rather than only three!
By 8:15am, there were only 40 or 50 people in line and my parents were within the first 12 or so, which meant they would have no problem getting their LE 95 Haunted Mansion and Doc canvas!  I really did want the bigger canvas as well, but seeing that I am living abroad for a few more years, I didn't want it to sit in a storage vault along with much of my other valuable Disney art.  With that in mind, I decided to go for all four prints — much easier to bring back in carry-on luggage!
After seeing photos from the event, the renderings on the Disney Gallery website did not do the artwork justice! I cannot wait to see them in person, but hopefully these photos give you an idea of just how talented Chip Foose really is.  It's always exciting to see the images on the Disney site brought to life at the actual event.  Each of these designs also features another fun Disney touch — a "Hidden Mickey"!  With the LE Canvas and original paintings, you receive a real certificate.  With the prints, there is a sheet attached to each one describing the artwork, Chip's biography, and where you can locate the hidden Mickeys!  Here is a look at each of the four pieces released on Saturday:
Doc's House Call
From the Art of Disney Parks: Low and sleek with a chopped top and custom chrome side trim, Doc is featured as a 50's era custom. Parked in front of Disneyland park's Haunted Mansion attraction, Doc's custom style suggests a life before his racing days. If you look closely at the brickwork in the background, you will discover a "Hidden Mickey".
Ramone and Flo – Castle Affair
Ramone and Flo are parked, nose to nose in front of the iconic symbol at Disneyland park, Sleeping Beauty Castle. Ramone is sporting his traditional candy purple and orange flame paint job, with Flo in her signature teal and white. The background "wash" color is a combination of both their colors.  Look for the "Hidden Mickey" in the trees, just behind the cars.
Lightning Speed
Lightning McQueen is a flash of red as he streaks through Disneyland park's Autopia attraction, proudly wearing his Number 95 and race day graphics.  With the iconic Autopia sign in the background, Lightning tears through his image at maximum velocity.  If you look closely in the driver's window reflection, you'll spot a "Hidden Mickey".
Tow Mater in Training
Trains carry people and Tow trucks carry cars, that's the connection between Tow Mater and the Disneyland park Railroad Train. Tow Mater is shown with a somewhat cleaner version of his paint scheme and is parked in front of the Disneyland Railroad Steam locomotive.  The "Hidden Mickey" is this painting is located inside the Engineer's Cab.
I was told this event ran much smoother than many others in the past and guests were let in the gallery even before 9am to make their purchases, and the signing was very organized and ran smoothly.  CMs were cracking down to ensure only two items were signed per guest, but they did allow my parents to get back in the line to have my last print signed.
Chip Foose was apparently quite the charmer and very personable I'm told! He took his time with each guest and interacted with everyone during the signature process.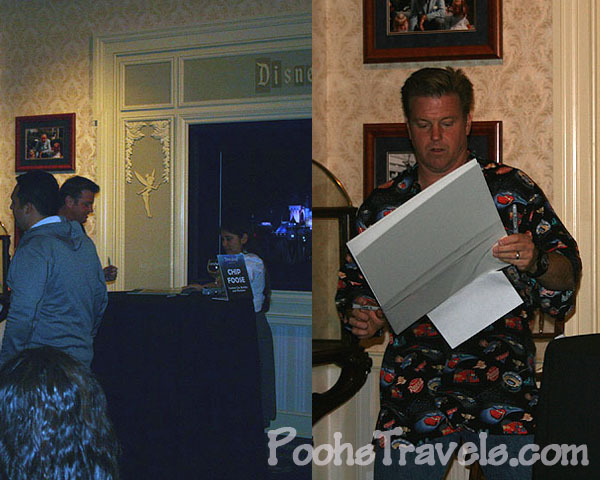 Something interesting that people did was wander into the Great Moments with Mr. Lincoln door to catch a glimpse of Foose himself.  I'm told you couldn't get that close to him, but it was still an opportunity for some of his fans to snap a few photos and watch him in action.
My mother did a great job of trying to get some photos for me while trying to get everything signed and took notes on how the event went.  And the highlight for me — she brought one of our Duffy the Disney Bears dressed in his new Cars racing outfit and Chip took several photos with him.  What an amazing guy and incredible sport to offer to do that!  I was just hoping the CM's would let my parents hold him in a picture with Chip, never thought he'd end up holding the bear!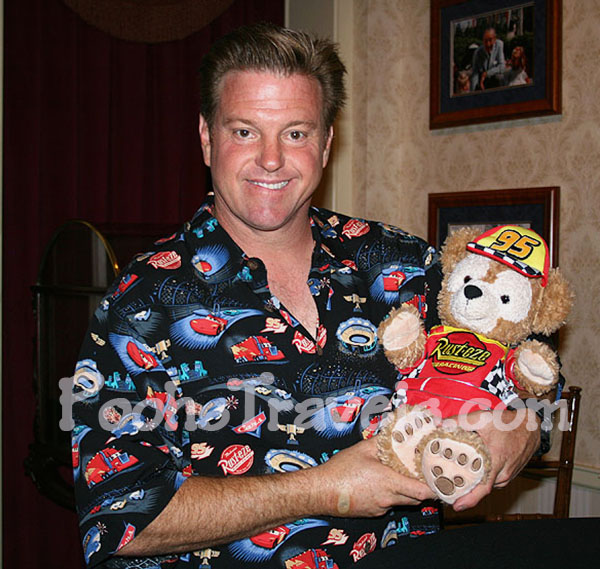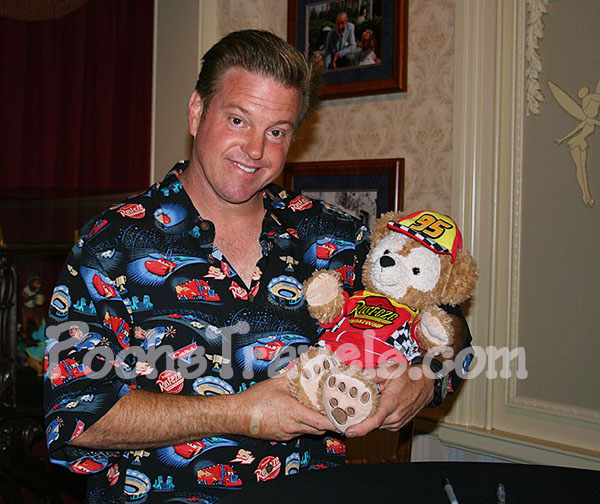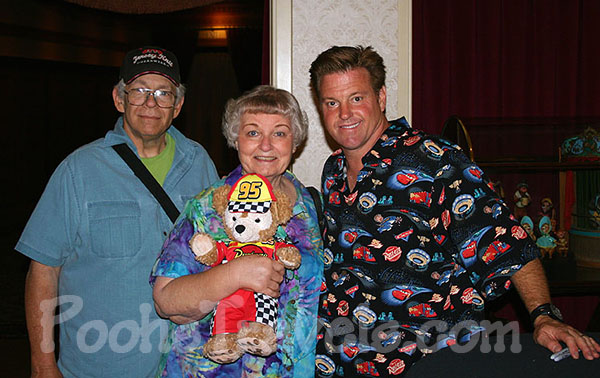 Once they arrived back home, she was able to get some better close up photos of the signature and edition number of their Doc canvas.  They lucked out with 6/95 and had Chip sign the certificate that accompanied the artwork.  They even have it hung in their living room already.  This is obviously a pretty big piece so it seems I made the wise decision to forego the canvas and do the prints only right now.  They better keep an eye out though, my parents might find that their canvas "disappears" anyways on one of my future trips home!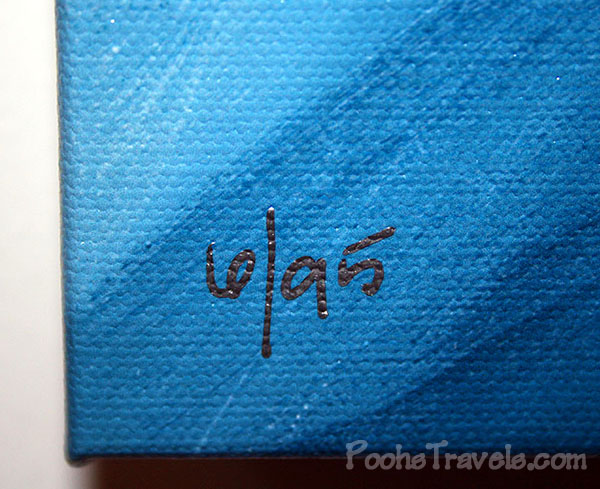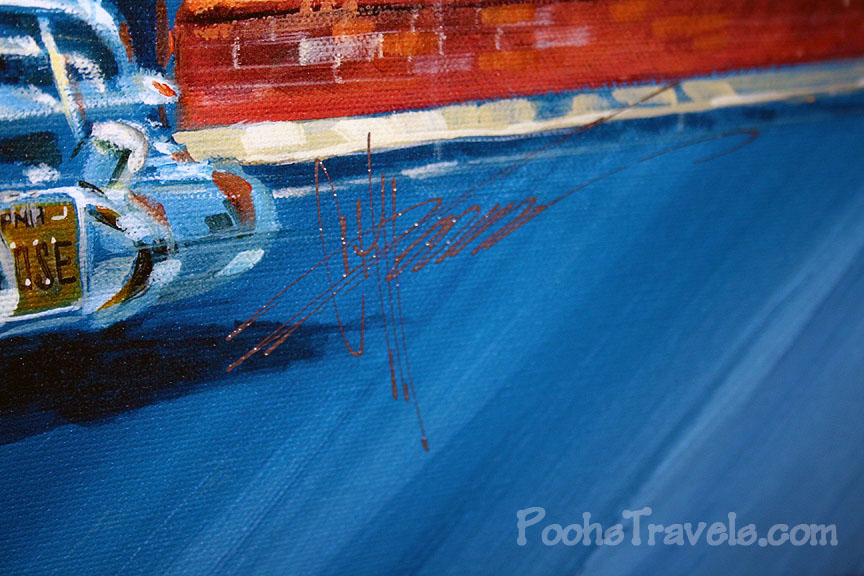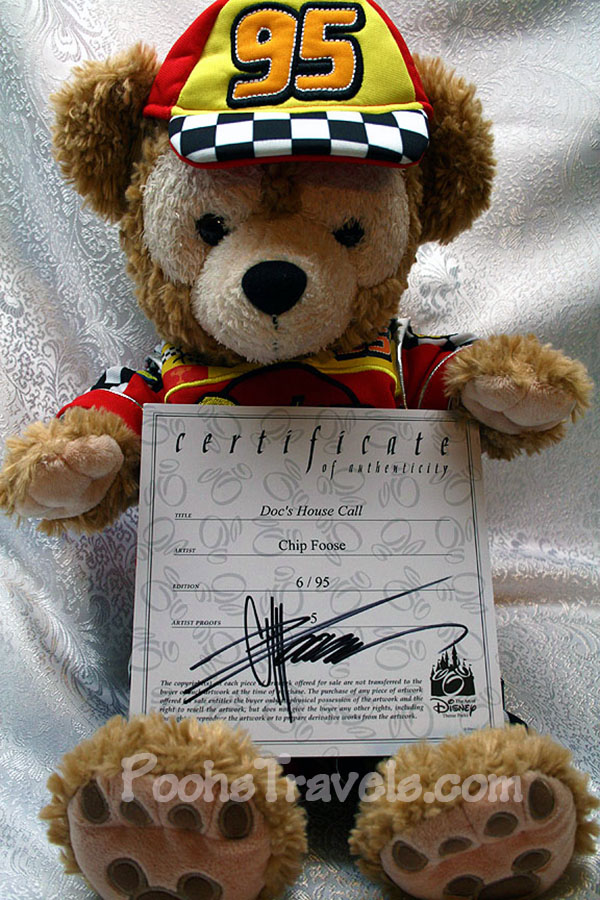 By the way, wondering if anyone bought the original works of arts?  My parents said at least two of the original paintings were being spoken for and at least one of the two Vinylmations was in the process of going during the initial moments of the event.  In fact, the person in line behind them was there to purchase the Ramon and Flo original artwork.  Thrilled to see original Disney art get a good home — just wish it was mine.

Overall, it sounded like a great event and kudos to Disneyland and the Gallery staff for keeping the event organized with a smooth flow.
The following two tabs change content below.
Erin De Santiago
A lifelong Disney fanatic and freelance writer currently based in Asia. Sharing Disney tips and photos from the various Disney Theme Parks around the world.
Latest posts by Erin De Santiago (see all)